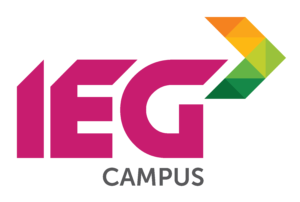 Management Development Program
Fee & Scholarship:
Flexible payment and scholarship.
IEG Campus is a leading global education service provider that drives success for our learners and partners. We create life-changing opportunities to learn by delivering an extensive range of educational services to learners with our global network partners.
IEG Campus works with leading universities across the UK, Europe, North America, Africa, Asia and Australasia. We nurture ambitious learners from diversified academic backgrounds and prepare them for success at their chosen education institution through our Study Abroad Centres, Learning Centres, and IEG Schools located globally. These outposts are fully equipped with the latest teaching and learning technologies that enable learners to succeed in their education endeavours borderless through a "Digital Lifestyle Campus " concept.
IEG Online provides universal access to the world's best education, partnering with top universities and organisations to offer courses online/blended. IEG Campus's Digital Education System is an innovative use of digital tools and technologies during the teaching and learning process which enhances the learners learning experiences.
Management Development Program
Today's most effective executives possess a mix of hard and soft skills that allow them to manage people, products, and processes with confidence and agility. Even as technology infiltrates every aspect of our work, companies need people who can think in multiple dimensions, considering financial, operational, strategic, and human implications of business decisions. Whether you want to advance in your current industry, shift roles, or build a new business, Management Development Program can help you achieve your goals. The program is designed to be flexible, fitting into your work/life balance. It leverages IEG Campus renowned faculty and industry experts, drawing upon many of the same concepts that are taught in the first year of the MBA curriculum.
Program Objectives and Relevance to Industry
The Professional Certificate in Applied Business aims to develop further the working-class professional's knowledge, competencies and interest in the business field. It also helps the professionals to use their knowledge effectively in the area of business, commerce, management, and accounting as well as acquire sufficient preparation to continue pursuing their professional and personnel development domain and to function productively in their careers upon completion of the program.
Program Recap and Final Assessment
The assessment will be "holistic" and will offer the participants a practical opportunity to apply their knowledge gained from the Management Development Program. Successful candidate will be awarded a Completion Certificate from RED Academy.
Thank you for your interest in
IEG Management Development Program
For in-depth program details,