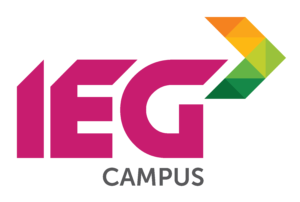 Teacher Professional Development:
Digital Transformation in Early Childhood Education
Fee & Scholarship:
Flexible payment and scholarship.
IEG Campus is a leading global education service provider that drives success for our learners and partners. We create life-changing opportunities to learn by delivering an extensive range of educational services to learners with our global network partners.
IEG Campus works with leading universities across the UK, Europe, North America, Africa, Asia and Australasia. We nurture ambitious learners from diversified academic backgrounds and prepare them for success at their chosen education institution through our Study Abroad Centres, Learning Centres, and IEG Schools located globally. These outposts are fully equipped with the latest teaching and learning technologies that enable learners to succeed in their education endeavours borderless through a "Digital Lifestyle Campus " concept.
IEG Online provides universal access to the world's best education, partnering with top universities and organisations to offer courses online/blended. IEG Campus's Digital Education System is an innovative use of digital tools and technologies during the teaching and learning process which enhances the learners learning experiences.
Teacher Professional Development:
Digital Transformation in Early Childhood Education
Continuous teachers training is essential due to the shifts in education perspectives and practices to meet the nation's current needs. Teachers need to be equipped with the recent content to upscale their professionalism in working with children and parents. This training will cover the core areas of early childhood education, including a deeper understanding of how children learn, how they behave, effective communication with colleagues, parents and children, guiding learning and engaging children with meaningful activities. Teachers will also be taught in creating digital media content for young children, as the demand for digital education continues.
By the end of this training, teachers are expected to be able to:
Understand how children learn by applying theories and philosophies in early childhood education suitable for changing environment and expectations.
Understand children's and parents' behaviour better for effective communication and teaching and learning sessions.
Set appropriate expectations for themselves and children and plan engaging learning experiences for young children suitable for the current needs.
Use appropriate techniques and approaches in teaching young children in both conventional and digital environment.
Create suitable and appropriate digital content for young children.
Certification / Awading Body
Universiti Tun Abdul Razak (UNIRAZAK) was established on 18 December 1997 and is one of the first private universities in Malaysia. UNIRAZAK is wholly-owned by Yayasan Pelaburan Bumiputra, which also owns Permodalan Nasional Berhad (PNB). Since 2012, UNIRAZAK has been under the leadership and guidance of our esteemed Chancellor, YABhg. Tun Ahmad Sarji bin Abdul Hamid.
UNIRAZAK is known for its coveted degrees which were jointly-developed in partnership with globally renowned professional bodies. This unique approach enabled its students to obtain dual publications: a degree and accreditation by professional bodies relevant to their chosen fields be they in accounting, management, taxation and Islamic banking & finance. To date, UNIRAZAK's program partners include CPA Australia, Chartered Management Institute of United Kingdom (CMI), Malaysian Association of Tax Accountants (MATA), Chartered Tax Institute of Malaysia (CTIM), Islamic Banking and Finance Institute Malaysia (IBFIM), Malaysian Institute of Insurance (MII) and others. Today, UNIRAZAK is firmly established as 'Kuala Lumpur's Premier School of Business, Government & Education'.
UNIRAZAK meets the highest standards for tertiary education and has been awarded MSC-status and SIRIM certification ISO 9001:2000. In 2017, UNIRAZAK achieved 4-star ratings for MYRA and SETARA and was bestowed the Ministry of Education's Grand Award for 'Entrepreneurial Private University of the Year' in 2015.
Thank you for your interest in
IEG Teacher Professional Development:
Digital Transformation in Early Childhood Education
For in-depth program details,