Level 6
Certificate in Coaching and Mentoring
Start on:
Open for every month
Study Mode:
Online / Blended  Weekend intensive delivery
Fee & Scholarship:
Flexible payment and scholarship.
ATHE is a global awarding organisation regulated by Ofqual and other UK and international regulators. We work with 200 recognised centres in over 45 countries to complement our strong brand presence in the UK.
ATHE offers a wide portfolio of vocationally orientated and internationally recognised qualifications – such as business and management, law, computing and healthcare, with many eligible for UK funding. We have also developed a diverse range of regulated bespoke qualifications for clients through our qualifications development service.
ATHE qualifications are approved as progression pathways to relevant Bachelor's and Master's Top Up degrees by a growing number of UK and international Universities, providing significant tertiary education opportunities for our learners.
Excellent Value for Money
We are able to provide a comprehensive qualification and support package which provides excellent value for money with our appreciation of a very price sensitive industry.
All ATHE qualifications have progression routes and many of these are to degrees at our University partners.
Innovative Qualifications
Our Qualifications are on the RQF, they allow for flexible delivery models and are designed in line with industry standards and centre needs. They also include comprehensive support material including suggested assignments, teaching and learning guidance and resources.
Our EQAs have extensive experience in the systems of ATHE, Ofsted, ISI, QAA and Ofqual. This experience is there as a resource to you and to support your centre's development.
Flexible Delivery Solutions
Our qualifications and systems are designed for maximum flexibility, however if you have a request which we don't currently cater for we won't tell you it can't be done. We will do our best to provide you with something that suits you, your centre and learners.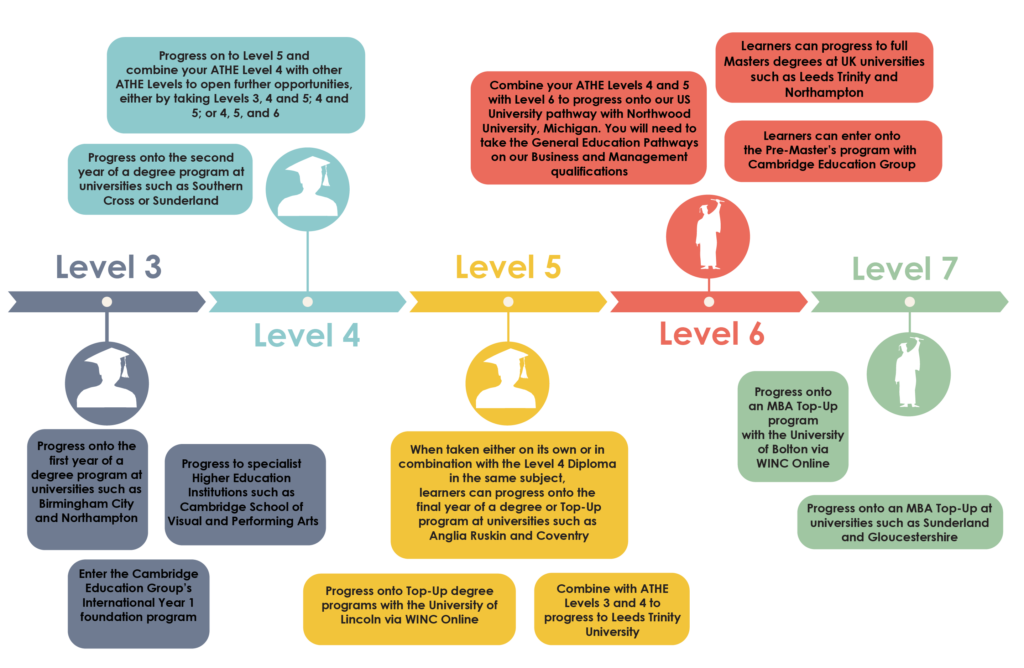 ATHE LEVEL 6
CERTIFICATE IN COACHING AND MENTORING
The aim of this qualification is to develop knowledge, understanding and skill in coaching and mentoring, so these techniques can be used effectively in and across organisations operating in the fields of business and education. Delivered through blended or distance learning, the qualification will establish the connection between coaching, mentoring and the achievement of personal and organisational goals.
Two pathways are offered for learners with the appropriate levels of experience and maturity to take on the roles of coach and mentor, either working with people at different levels in business organisations or with those providing education and training. Both will facilitate embedding of improved practice leading to higher levels of personal development from those being coached or mentored and subsequently higher achievement of business goals and institutional success.
The qualification can stand alone or may be offered by centres to support learning in other ATHE qualifications such as Business & Management, the Level 3 Certificate in Entrepreneurship, or suite of Teaching qualifications within which it plays an integral role. The four-unit structure will provide the opportunity to apply the learning, with observation of actual practice in coaching and/or mentoring which can be done remotely or face to face.
LEVEL 6
CERTIFICATE IN COACHING AND MENTORING UNITS
Learners can choose from the following two pathways and mandatory units to meet their personal and organisational needs:
Level 6 Certificate in Coaching and Mentoring
(for People in Business)
Level 6 Certificate in Coaching and Mentoring
(for People in Education and / or Training)
This qualification is designed for learners who have the appropriate levels of experience and maturity to take on the roles of coach and mentor. For example, the learners may have extensive experience of working in the roles where mentoring or coaching is taking place. It is likely that learners will at least be aged 21 and above.
For learners who have recently been in education or training the entry profile is likely to include one of following:
a level 5 or level 6 qualification in a range of subject areas;
other equivalent international qualifications;
qualifications and/or training in coaching or mentoring.
Learners must have an appropriate standard of English to enable them to access relevant resources and complete the unit assignments.
Thank you for your interest in
ATHE LEVEL 6
CERTIFICATE IN COACHING AND MENTORING
For in-depth program details,