Start on: September January
Duration:
Full time – 12 months
Part time – 21 months
Fee & Scholarship:
Flexible payment and scholarship.
We are one of the UK's longest-established specialist providers of legal education. We can trace our origins to 1876 with the formation of tutorial firm Gibson & Weldon, and in 2016, we opened our leading Business School. With a rich heritage and a reputation for innovation and contemporary teaching practices, we continuously focus on developing the best legal and business minds.
All of our courses – from our undergraduate law degrees to our diverse range of business courses and postgraduate programmes – are designed with a unique, varied and innovative learning approach proven to deliver self-reliant professionals who can compete in the fast changing professional world. With a focus on developing skills in problem-solving, weighing up arguments, critical thinking and commercial awareness, our courses are designed to prepare you for the real-life challenges of the working world.
Our track record of excellence in learning and development has helped us establish worldwide connections within the legal and business industries. This is why many leading global law firms and businesses work exclusively with us to develop their people, and why employers of all types want to meet our students. It's why law schools and professional bodies around the world choose to enter into strategic alliances with us.
We have a vast network in the legal industry and deliver legal training to 94 of the top 100 law firms with exclusive relationships with 33 of the top 100. We also have several exclusive relationships with law firms outside of the top 100, including 8 of the top 20 US law firms.
In June 2021 we were awarded 5 stars in the World University Rankings, by global higher education analysts, QS (Quacquarelli Symonds). QS states a typical five-star institution is "generally world-class in a broad range of areas, enjoys an excellent reputation and has cutting-edge facilities and internationally renowned research and teaching faculty." As well as achieving an overall 5 Star rating as an institution and for the Law subject, we have achieved 5 stars in Teaching, Employability, Online Learning, Academic Development and Inclusiveness and 4 stars for Specialist Criteria for our LLB and Internationalisation.
What really sets us apart from other universities is the guiding principle that future lawyers and business leaders should learn in a realistic, professional and contemporary context, with plenty of practical interactive engagement. That's why we keep our contact hours high and our teaching groups small.
OUR SUITE OF MASTER'S PROGRAMMES IN LAW ARE AIMED AT BOTH LAW AND NON-LAW GRADUATES WHO WANT TO EXPLORE THE PRACTICAL APPLICATION OF A PARTICULAR, SPECIALIST AREA OF LAW.
The University of Law is one of the UK's longest-established specialist providers of legal education. With a rich heritage and a reputation for innovation and contemporary teaching practices, we continuously focus on developing the best legal minds.
Our Master's Programmes in Law will allow you to pursue specialist areas of law and, if you choose, they can also give you an insight into how the law works in practice. Although Master's degrees are not required to get a training contract or pupillage, they are increasingly important if you want to pursue a career overseas, in academia or want to specialize in a particular area of law.
This course is delivered entirely online. The full-time options are divided into three terms over one calendar year, while the part-time options are divided over six terms in two calendar years. There is an online induction at the beginning of each course.
Each taught module is delivered over ten teaching weeks, with two hour workshops each week. All preparatory material, including any lecture content, is provided on the Virtual Learning Environment (VLE), as is all consolidation material.
The dissertation is undertaken in either Term 3 (full-time) or Terms 5 and 6 (part-time). All taught modules must have been completed before you begin the dissertation.
When you study a Master's online with us you will:
Be taught by subject matter experts, former and current practitioners and research and teaching focused academics
Focus on legal practice, not just theory
Benefit from strategic partnerships with firms, regulators and accreditation bodies
Learn about Legal Technology by selecting to study modules in legal technology
Improve your employability by gaining important transferable skills and mapping your career with our careers team
You'll have the chance to select four elective modules that interest you, as well as complete a dissertation that allows you to explore an area linked to one of your elective module subject areas through independent research. You'll learn practical legal skills in analysis and critical evaluation, alongside a range of transferable skills such as research and presentation skills.
Our flexibly structured course is delivered by qualified lawyers, bringing their expertise and experience into the classroom to provide you with the real-world insight that can help prepare you for the practical application of the law.
In addition to a general induction to the programme, there is a two-week induction covering the Key Principles of the English Legal System. This is compulsory for non-law students, but also open to law students wanting a refresher in the fundamentals of the law of England and Wales. This would be useful for any student who has taken a considerable break from legal education.
OUR MASTER OF LAWS (LLMs) Online
LLM COMPANY LAW
LLM COMPLIANCE AND REGULATION
LLM CORPORATE GOVERNANCE
LLM CORPORATE GOVERNANCE GRAD CG
LLM DATA PROTECTION AND INTELLECTUAL PROPERTY
LLM ENVIRONMENTAL LAW
LLM FINANCE LAW
LLM INSURANCE LAW
LLM INTERNATIONAL ARBITRATION
LLM INTERNATIONAL BUSINESS LAW
LLM INTERNATIONAL CORPORATE GOVERNANCE
LLM INTERNATIONAL ENERGY LAW
LLM INTERNATIONAL HUMAN RIGHTS
LLM MEDIATION AND ALTERNATIVE DISPUTE RESOLUTION LLM MEDICAL LAW AND ETHICS
LLM MENTAL HEALTH LAW
MASTER OF LAW (INTERNATIONAL)
MASTER OF LAW (GENERAL)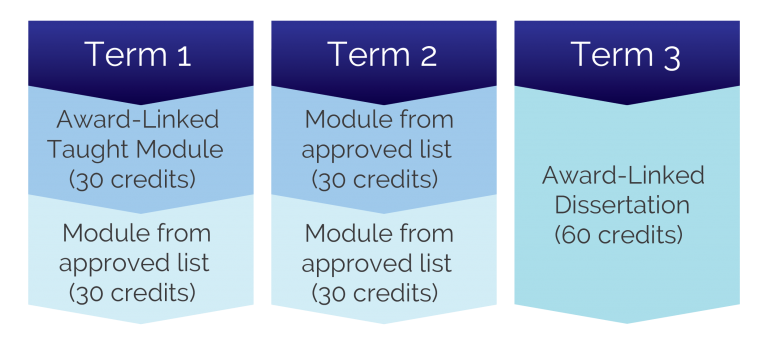 If you study part-time, the modules studied in term 1 and 2 will be spread over 4 term and the dissertation will be completed in terms 5 and 6.
Modules are assessed by a three hour unseen written examination or 4,500 word coursework assignment.
Attendance at one of our UK campuses (or an approved overseas centre by prior arrangement) is required for all examinations, including for online study.
The default campus location for online study is London.
The dissertation module will be assessed by submission of a thesis (15,000 words), and provides an opportunity for sustained, in-depth and intensive investigation into, and reflection upon, your chosen specialist area.
Thank you for your interest in
Master of Law (LLM)
For in-depth program details,