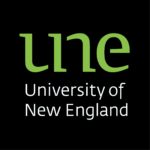 Master of Business Administration
Start on:
March, June, October
Duration:
1 or 1.5 or 2 years full-time​ or
Up to 6 years part-time
Study Mode:
Online / Blended  Weekend intensive delivery
Fee & Scholarship:
Flexible payment and scholarship.
UNIVERSITY OF NEW ENGLAND (UNE)
UNE is a public university in Australia with a rich history extending back to the 1930s and awarded the maximum 5 stars for Overall Experience 15 years in a row by the Good Universities Guide. UNE has been delivering distance education since 1955 – that's longer than any other Australian university.
Their focus is on the student's future, providing them with a personal and flexible approach to learning. UNE offers more than 200 courses at undergraduate, postgraduate coursework and higher degree research levels with options to study online or on campus.
UNE aim is to offer you the most flexible study options without losing any of the rigour required in a quality tertiary education. You can study on campus for a traditional face-to-face education experience, or from wherever you are; our new generation of online study is making tertiary education more accessible than ever.
Teaching Quality NSW
Good Universities Guide 2021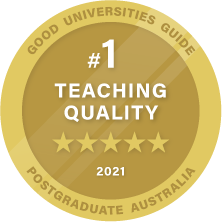 Postgraduate Teaching Quality
Good Universities Guide 2021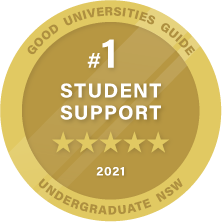 Undergraduate Student Support
Good Universities Guide 2021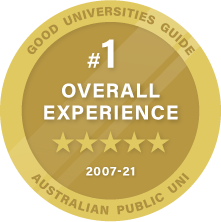 Overall Experience
Good Universities Guide 2021
MASTER OF BUSINESS ADMINISTRATION (MBA)
UNE MBA allows you to expand your professional skills and knowledge to achieve your career goals. The degree provides you with a comprehensive set of expertise in the critical fields of decision making, ethics, management, marketing and strategy needed to operate in a globalised economy.
UNE MBA is designed for working professionals seeking to broaden their skills and expand their opportunities within or beyond their current field of employment. This award sets out to provide graduates with an opportunity to develop an advanced and integrated set of core competencies across a range of business disciplines and their embodied theory and principles. It will enable them to effectively identify, analyse and resolve any management issues that they encounter.
As a signatory to the United Nations Principles of Responsible Management Education (PRME), the UNE Business School is committed to embedding corporate social responsibility and sustainability into our curriculum.
ELECTIVE UNITS (5 units):
A candidate shall hold an Australian Qualifications Framework (AQF) Level 7 Bachelor degree or overseas equivalent in a relevant or non-relevant discipline and at least two years of full-time equivalent relevant work experience.
Candidates shall hold a Diploma in a relevant discipline and have at least six years of full-time equivalent relevant work experience.
Each application to UNE is considered on an individual basis. If applicants do not have the typical academic entry qualifications but can demonstrate relevant work experience and/or credits from recognised professional bodies, they may be eligible to enter this program via the University's Recognition of Prior Learning policy.
Candidates must also meet the University's English Language Requirements for Admission.
Thank you for your interest in UNE MBA
For in-depth program details,