Start on:
March, June, October
Duration:
1 Year Full-time
Up to 4 years Part-time
Study Mode:
Online / Blended  Weekend intensive delivery
Fee & Scholarship:
Flexible payment and scholarship.
UNIVERSITY OF NEW ENGLAND (UNE)
UNE is an Australian Public University awarded the maximum 5 stars for Overall Experience 15 years in a row by the Good Universities Guide. UNE has been delivering distance education since 1955 – that's longer than any other Australian university.
Their focus is on the student's future, providing them with a personal and flexible approach to learning. UNE offers more than 200 courses at undergraduate, postgraduate coursework and higher degree research levels with options to study online or on campus.
UNE aim is to offer you the most flexible study options without losing any of the rigour required in a quality tertiary education. You can study on campus for a traditional face-to-face education experience, or from wherever you are; our new generation of online study is making tertiary education more accessible than ever.
Teaching Quality NSW
Good Universities Guide 2021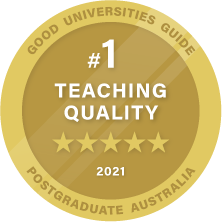 Postgraduate Teaching Quality
Good Universities Guide 2021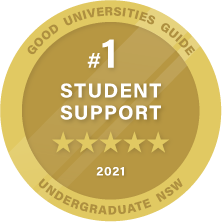 Undergraduate Student Support
Good Universities Guide 2021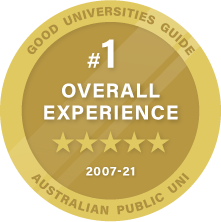 Overall Experience
Good Universities Guide 2021
Diploma in Business (DiB)
The global business sector is booming, so there has never been a better time to upgrade your knowledge and skills. By bringing business and management courses directly to you, UNE enhances your creative and critical thinking capabilities from the comfort of your home.
If you're an undergraduate learner who wants to build a fundamental business foundation, you can start off with a workforce entry qualification such as a Diploma in Business and then use the units of study for advanced standing into the Bachelor of Business course. With guidance from your professors, you'll progress through accounting, marketing and economics modules and acquire the knowledge and confidence to advance your career of even to create a small or large-scale enterprise.
Complete ONE UNIT from the following units:
+ Plus any 4 elective units
Elective Units can be selected from any unit offered by the University subject to candidates meeting overall course requirements and prerequisite and timetabling requirements for individual units.
Candidates must have successfully completed an Australian Year 12 qualification or an overseas equivalent. It is recommended that students have previously studied mathematics. Candidates must also meet the University's English Language Requirements for Admission.
You will graduate from a Diploma in Business as a flexible, all-rounder – your career pathway may include small and large business management; administration or management; Indigenous organisation management; banking; government agencies; human resources; project management; entrepreneur; or business consulting.
Thank you for your interest in
UNE Diploma in Business
For in-depth program details,