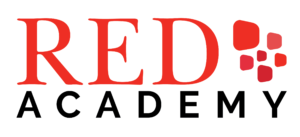 Professional Certificate in Applied Business
Duration:
​1 year / level
Study Mode:
Online / Blended
Fee & Scholarship:
Flexible payment and scholarship.
Leveraging on our robust history with over two decades in academic, corporate learning solutions and administrative technologies, we partner with today's organizational and industry leaders to develop effective and lasting improvements to education and personal development. We help organizations become better positioned to achieve strategic goals, compete for scarce resources, and plan for the future. 
We play a lead role in assessing, developing and implementing Corporate Learning Models for many multinationals. Our expertise in Talent Management Consultancy similarly has guided many organisation to fulfil their unique business requirements. 
With our flexible developmental consulting model and full-service portfolio for Corporate Learning, our team becomes your team. From strategic planning and transformational change to competitive eLearning technologies and content development, we are your total solutions partner.
Professional Certificate in Applied Business
This program demonstrates the need to meet the global demand for highly skilled managers. It will prepare you with the necessary skills, knowledge and attributes to undertake a wide of professional positions across a broad range of industries. This programme has been developed by RED Academy to enable learners to pursue a skill-based qualification while they are working.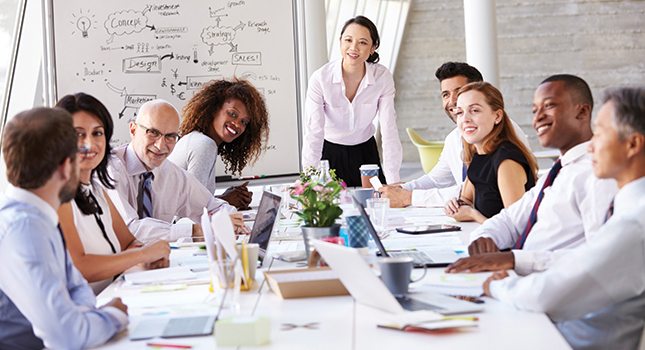 Our Professional Certificate is management focused and blend standard modules with more specialist subject areas, enabling professional to develop expertise, disciplines as well as a strong understanding of business management in general. The programs emphasise on developing workplace skills alongside industry-driven abstract knowledge is a winning combination for our professional graduates.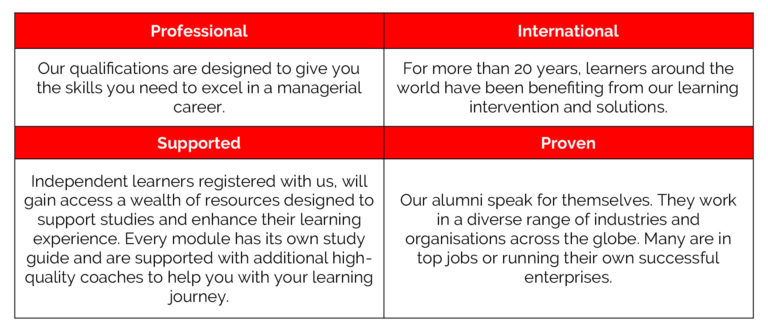 The Professional Certificate in Applied Business aims to develop further the working-class professional's knowledge, competencies and interest in the business field. It also helps the professionals to use their knowledge effectively in the area of business, commerce, management, and accounting as well as acquire sufficient preparation to continue pursuing their professional and personnel development domain and to function productively in their careers upon completion of the program.
The objectives of the Professional Certificate in Applied Business are to:
provide opportunities for the professionals to acquire the necessary qualifications for the entry into tertiary institutions and enable them to pursue business-related careers.
prepare the professionals for academic excellence, while at the same time teach leadership qualities and character development.
expose the professionals to a combination of courses primarily in the areas of business studies, human resources, marketing, quantitative methods, information system, creativity and management which are pivotal to the need of the modern industry.
allow the professionals to proceed into specialisation compatible with their career pathways and aptitude.
Managers
Office Manager
Project Manager
Supervisor
Entrepreneur
The Professional Certificate in Applied Business consists of thirty (30) modules at ten (10) modules at each level. Each module comprises of twenty-eight (28) hours of face-to-face lecture and fourteen (14) hours of tutorials in addition to self-guided learning with extensive learning resources. A short description of the program is as follows:

Note:
One (1) credit requires up to forty (40) hours of learning
One (1) module is equivalent to three (3) credits and requires three hundred and sixty (360) learning hours
Per 'Term' is equivalent to fourteen (14) weeks of study
The table below shows a typical progression route for 90 credit qualifications.


Learners with a minimum working experience of 1200 hours are eligible to pursue the Professional Certificate in Applied Business (Associate – Level 3) if they possess at least one of the followings:
Pass SPM / SPVM or equivalent with 3 credits in any subject;
Pass UEC with at least a B grade in any 3 subjects;
Pass O'Level with at least a C grade in any 3 subjects;
Pass Level 2 SKM in any relevant field; or
Foundation Studies in Business or Foundation in a related field.
Upon completion of the Professional Certificate in Applied Business (Associate – Level 3), entry into the Professional Certificate in Applied Business (Specialist – Level 4) is granted; subsequently, Professional Certificate in Applied Business (Specialist – Level 4) or an additional 1200 hours of working experience will gain entry into Professional Certificate in Applied Business (Advanced – Level 5).
Recognition of Prior Learning (RPL)
Professionals wishing to apply for RPL and Credit Transfer are required to provide the syllabus of the previous study undertaken at the time of applying for a program in addition to their individual portfolio.
Each module is evaluated by continuous assessment and written examination at the end of each term. Learners must fulfil at least 80% attendance; otherwise, they may not be permitted from taking the final examination.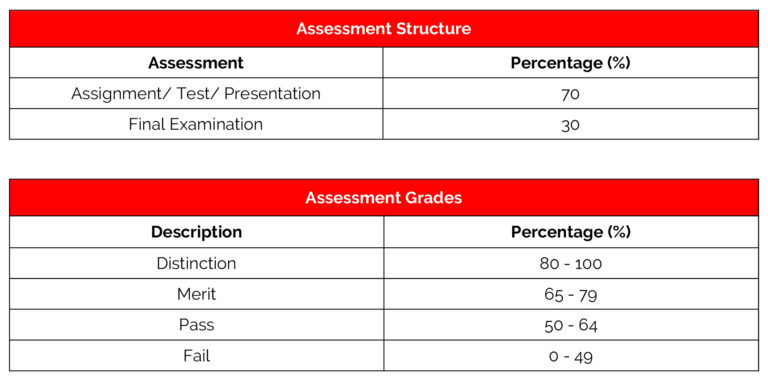 Thank you for your interest in
RED Professional Certificate in Applied Business
For in-depth program details,