Level 4 Diploma in Entrepreneurship
Duration:
6 days + 6 hours Online Coaching
Study Mode:
Online / Blended  Weekend intensive delivery
Qualifi is a leading 21st-century UK Awarding Organisation founded to meet the developing education and training needs of learners and employers around the globe serving the needs of learners and employers worldwide every year.
As the recognised UK awarding organisation, regulated by the Office of Qualifications and Examinations Regulation (Ofqual), Qualifi can give assurances to employers, centres and learners of consistent, rigorous, quality standards and valid, valued learning. Whether you're a learner or an employer, competition today is intense. Organisations around the globe are seeking knowledgeable, highly skilled and productive employees.
Qualifi qualifications provide both learners and employers with the recognition of competency that can build employee careers and global enterprises. And our qualifications combine UK standards with relevant international content so that learners can achieve their full potential in today's global economy.
Qualifi is recognised as an Awarding Organisation (AO) by the Office of Qualifications and Examinations Regulation (Ofqual). This is a non-ministerial UK government department that regulates qualifications, exams and assessments.
Qualifi's Academic Advisory Board is made up of invited members who provide extensive experience in education, strategy, business management and quality assurances.
Regulated and bespoke qualifications
Our portfolio includes regulated qualifications as well as bespoke qualifications that include endorsed and certified programmes across many sectors internationally.
Qualifi continues its mission to be recognised globally with qualifications that meet the demands of employers and learners, both vocationally and academically.
University degree pathways
Qualifi provides a more flexible, cost-effective route for learners to achieve degrees and masters degrees through our progression routes with Universities.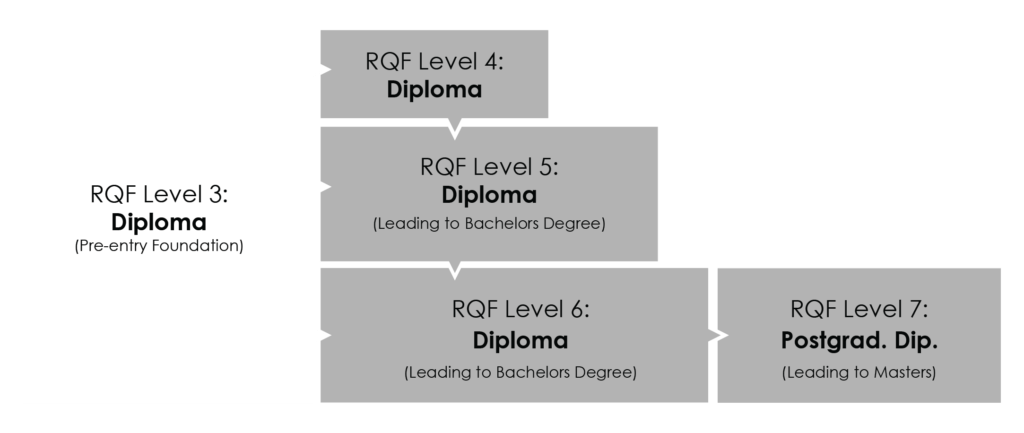 Level 4 Diploma in Entrepreneurship
The Qualifi Level 4 Diploma in Entrepreneurship is accredited at Level 4 with a total equivalence of 120 credits. It is envisaged that learners completing the Level 4 diploma will progress to a Qualifi Level 5 qualification. Learners can also step directly into employment in an associated profession.
The Qualifi Level 4 Diploma in Entrepreneurship program has been created to develop and reward the business managers of today and the future, and to continue to bring recognition and professionalism to the management sectors. 
Furthermore, we look to develop the team leaders, managers and leaders of the future through the creation and delivery of learning appropriate for industry.
The learning outcomes of the diploma are:
The ability to read & use appropriate literature with a full and critical understanding.
Apply subject knowledge and understanding to address familiar and unfamiliar problems.
Recognise the moral and ethical issues of business practice and research.
Capacity to give a clear and accurate account of a subject in a mature way and engage in debate.
QUALIFI Level 4 Diploma in Entrepreneurship Modules
| Qualification | Placement Level |
| --- | --- |
| Holders of Level 2 and 3 qualifications | Entry to the first year of degree qualifications |
| Holders of Level 4 qualifications | Entry on to the second year of a British honours' degrees in the respective field |
| Holders of Level 5 qualifications | Final year (top up) at various universities in the UK |
| Holders of Level 6 qualifications | Entry to master's degrees or postgraduate diplomas |
| Holders of Level 7 qualifications | Entry to the final stage of Masters qualifications, such as MBAs and MSc degrees. |
| Holders of Level 8 qualifications | Preferential entry to a variety of Doctoral qualifications, including DBAs and PhDs |
List of Universities with Progression Paths
Some of the universities, where previous Qualifi graduates gained entry or have formal progression arrangements include:
Anglia Ruskin University
University of East London
University of Gloucestershire
De Montfort University
University of Bolton
University of Lincoln
University of West of Scotland
University of Wolverhampton
Birmingham City University
University of Derby
University of Northampton
Arden University
University of Law
Bath Spa University
Bangor University
Leeds Beckett University
University of Bedfordshire
BPP University
Buckinghamshire New University
University of Chichester
Cardiff Metropolitan University
University of Cumbria
Glasgow Caledonian University
Northumbria University
University of Huddersfield
Liverpool John Moores University
London South Bank University
The Open University
Staffordshire University
University of New England
York St. John University
Thank you for your interest in
QUALIFI Level 4 Diploma in Entrepreneurship​
For in-depth program details,