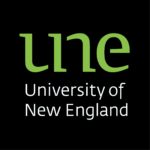 Diploma in Paralegal Studies​
Start on:
March, June October
Duration:
1 Year Full-time or Up to 4 years Part-time
Study Mode:
Online / Blended  Weekend intensive delivery
Fee & Scholarship:
Flexible payment and scholarship.
UNIVERSITY OF NEW ENGLAND (UNE)
UNE is an Australian Public University awarded the maximum 5 stars for Overall Experience 15 years in a row by the Good Universities Guide. UNE has been delivering distance education since 1955 – that's longer than any other Australian university.
Their focus is on the student's future, providing them with a personal and flexible approach to learning. UNE offers more than 200 courses at undergraduate, postgraduate coursework and higher degree research levels with options to study online or on campus.
UNE aim is to offer you the most flexible study options without losing any of the rigour required in a quality tertiary education. You can study on campus for a traditional face-to-face education experience, or from wherever you are; our new generation of online study is making tertiary education more accessible than ever.
Teaching Quality NSW
Good Universities Guide 2021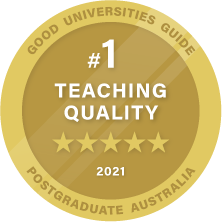 Postgraduate Teaching Quality
Good Universities Guide 2021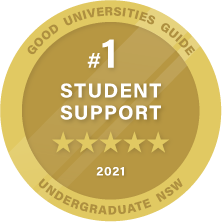 Undergraduate Student Support
Good Universities Guide 2021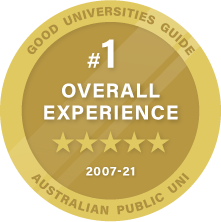 Overall Experience
Good Universities Guide 2021
Diploma in Paralegal Studies (DiPS)
The Diploma in Paralegal Studies course provides students with the opportunity to complete a course dedicated to preparatory skills and studies in law, regardless of their educational background.
This course will be attractive to students who would like to graduate with a degree by completing 8 units. This course also offers students who wish to continue their studies in law the opportunity to transfer to the Bachelor of Legal Studies or to take advantage of the pathway to a law degree (provided they satisfy the GPA requirement). It will also attract those with a general interest in law and those who wish to study particular areas of law in order to be able to work, for example, as a paralegal or legal secretary.
Complete 6cps (ONE UNIT) from the following units:
Complete 6cps (ONE UNIT) from the following units:
Candidates must have successfully completed an Australian Year 12 qualification or an overseas equivalent. Candidates must also meet the University's English Language Requirements for Admission.
This course will enhance career opportunities for those who want to work in, what might be described as, an ever-changing legal services market. Almost every industry across the private and public sector depends on professionals with an excellent understanding of the law and skills in legal reasoning. In particular, this course will provide graduates with legal knowledge to equip them to be paralegals working for in-house lawyers (the fastest growing sector in law at present), not just legal practices or law firms, or to pursue a range of careers in areas such as banking and finance, communications and public relations, corporate governance, court administration, information technology publishing, justice departments, politics and public policy-making.
Thank you for your interest in
UNE Diploma in Paralegal Studies​
For in-depth program details,