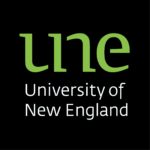 Bachelor of Organisational Leadership
Start on:
March, June, October
Duration:
1 year full-time or Up to 4 years part-time
Study Mode:
Online / Blended  Weekend intensive delivery
Fee & Scholarship:
Flexible payment and scholarship.
UNIVERSITY OF NEW ENGLAND (UNE)
UNE is an Australian Public University awarded the maximum 5 stars for Overall Experience 15 years in a row by the Good Universities Guide. UNE has been delivering distance education since 1955 – that's longer than any other Australian university.
Their focus is on the student's future, providing them with a personal and flexible approach to learning. UNE offers more than 200 courses at undergraduate, postgraduate coursework and higher degree research levels with options to study online or on campus.
UNE aim is to offer you the most flexible study options without losing any of the rigour required in a quality tertiary education. You can study on campus for a traditional face-to-face education experience, or from wherever you are; our new generation of online study is making tertiary education more accessible than ever.
Teaching Quality NSW
Good Universities Guide 2021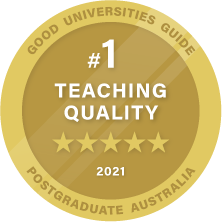 Postgraduate Teaching Quality
Good Universities Guide 2021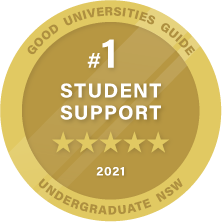 Undergraduate Student Support
Good Universities Guide 2021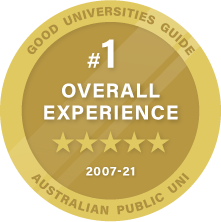 Overall Experience
Good Universities Guide 2021
Bachelor of Organisational Leadership (BOL)
This course takes advantage of the strengths of a business-oriented degree while meeting the contemporary organisational leadership needs of the 21st Century.
The Bachelor of Organisational Leadership recognizes your professional development and work experience to enable you to enter the third year of a bachelor degree focusing on organisational leadership. You will join a prescribed eight-unit program of study with emphasis on the challenges of effective leadership, organisational development and change, ethics and strategic planning and management. 
For example, you can choose to add more business units, or study a language, take an international study tour or foreign exchange, study science and technology, history, theatre studies or political science to name a few.
And complete 6 credit points from the following units:
Advanced Diploma (AQF Level 6) in a relevant discipline and three years relevant professional experience,: or
Diploma (AQF Level 5) in a relevant discipline and four years relevant professional experienced: or
Relevant professional development/training activities equivalent to 2400 hours (the applicant is required to provide a portfolio of evidence and a summary of face-to-face and private study hours) and at least five years relevant professional experience.
Note:
Business, Management or any other discipline approved by the course coordinator.
A Relevant professional experience refers to a position of responsibility in any organisational or industry context.
 
Manager in government, church, military, statutory and non-profit or commercial organisations.
Thank you for your interest in
UNE Bachelor of Organisational Leadership
For in-depth program details,